The Hong Kong University of Science and Technology
Master of Science in Global China Studies
Offer Page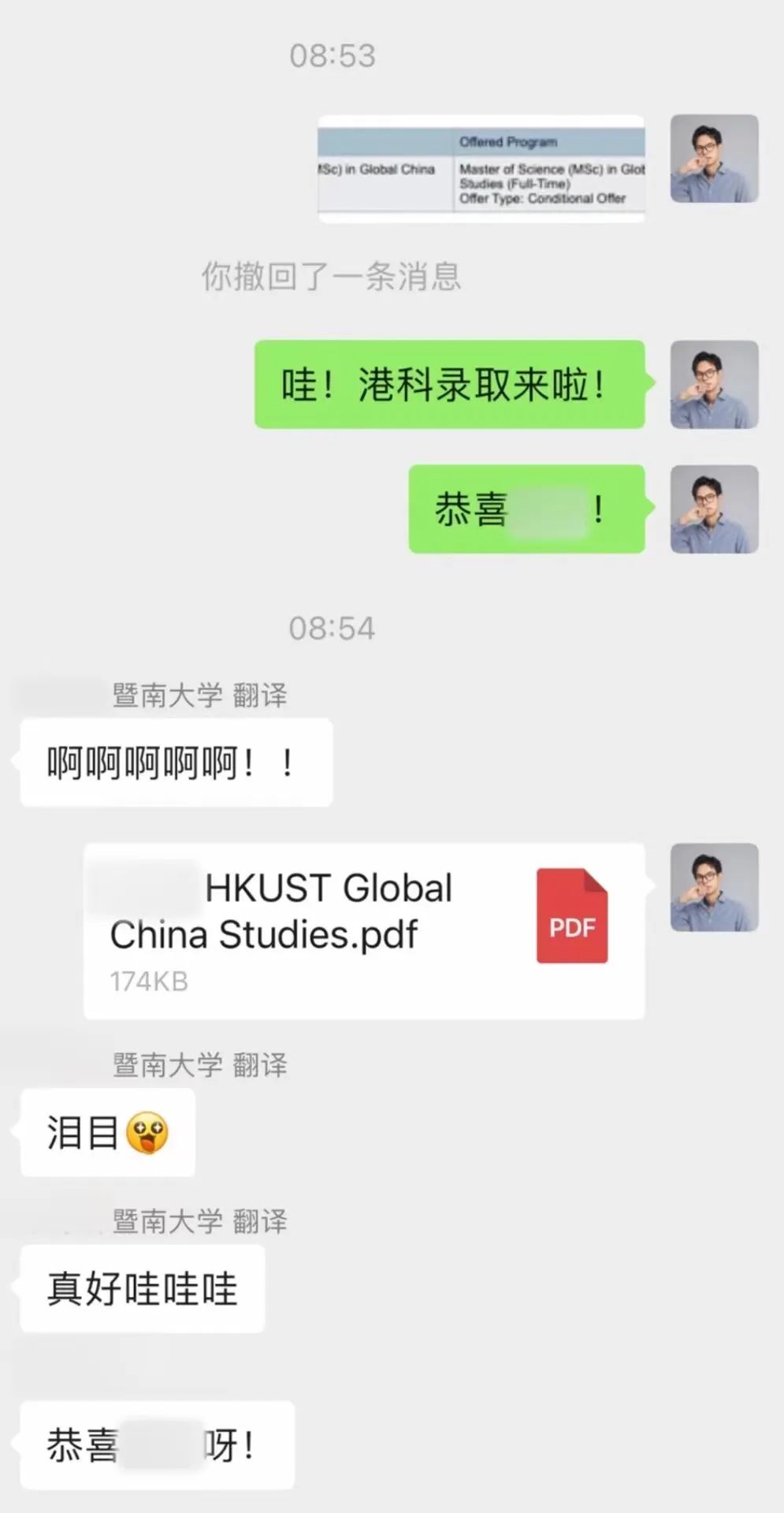 -Congratulations! You've received HKUST's offer!
-Wooooow, I'd cry to my tears… This is so heartening!
Applicant's Background
Undergraduate University: Jinan University
Major: Translation
CGPA: 4.08/5 90.8/100
2 internships
CATTI Level 3 Translation Certificate
Admission Timeline
Time when application submitted: 02/11/2022
Offer Received Time:26/11/2022
It only took 24 days to get the offer.
Beichen Notes
Shine was recommended to us by a friend of her family (Cindy). Coincidence is that Cindy happens to be a very dedicated and helpful colleague in our studio!
With the help of Cindy's paperwork, this student successfully applied from Translation to Global China Studies, and won an offer in the extraordinarily competitive Hong Kong school application this year.
I want to share something about Shine's application:
The first one is about the political topics in the paperwork. Most of Starlight's teachers have studied abroad for a couple of years, so they usually do have diverse perspectives on issues. Some of their ideas may even seem to be hard to accept for the public at home. However, we believe that you should be brave enough to express your own ideas in the application documents of overseas universities, without deliberately avoiding political issues.
We must suggest that many students try not to analyze issues from a China-centric perspective in their documents when applying to overseas universities. The admissions want to see an inclusive, diverse and open-minded international applicant.
Another thing is about the anxiety of application season. This year, I heard that the employment rate for graduates is pretty low, which also makes many senior students decide to continue their student career. The epidemic is also making the entrance exams for postgraduate much more uncertain, so studying abroad becomes a more ideal option. Students applying to Hong Kong universities must be incredibly anxious. After all, there are only a few schools, but with so many students applying from the mainland, the application is extremely competitive. It is undeniable that Shine has felt anxious many times. Being in a situation like this, it is essential to choose the right agent to help you with your application.
Congratulations to Shine on her successful offer! We're sure there are many more on the way. At least, you could prepare for graduation now, and spend the rest of your college years in peace!
Excerpts from the PS
No.1
…The diplomatic tone surrounding these issues kept escalating, developing from "dissatisfy" to "condemn". I believe that these minor changes in diplomacy also impact the effectiveness of China's foreign policy and even the international relations in the Asia-Pacific region.
No.2
…People will forget the minority group. But what if, the silent group was not a minority?
If you would also like to receive application assistance from Starlight, please contact us soon.